Stirling I R9327 - Obbekær E of Ribe - Monument Updated: 30 JAN 2019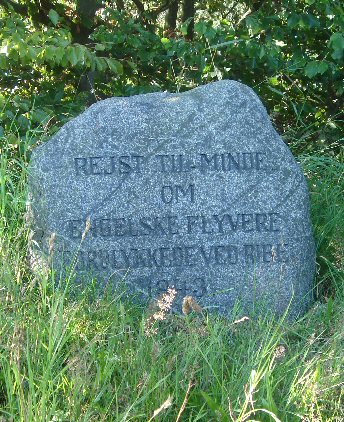 Monument for flyverne fra STI R9327 rejst her
150 m syd for Obbekjærvej 77, 6760 Ribe.
Rejst til minde om engelske flyvere
forulykkede ved Ribe 1943
Rejst af direktør M.C. Hagelund, Ribe. (KM)
Nedstyrtningsstedet er ca. 250 m syd for monumentet
og vest for markvejen.

Monument to the airmen of STI R9327 erected here
150 m south of Obbekjærvej 77, DK-6760 Ribe.
"Erected in memory of English airmen
killed near Ribe 1943"
Erected by general manager M.C. Hagelund, Ribe. (KM)
The crash site is about 250 m south of the monument
and west of the earth road.