Hudson V AM684 - Haleplan og kort - Rudder and map Photos: AS 25 SEP 2011 Updated: 05 FEB 2017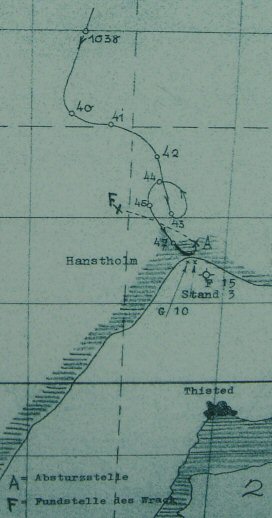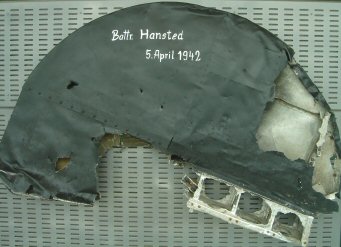 HUD AM684 styrtede ned omkring her, overblik her.
Museumscenter Hanstholm har mere om dette fly.
Resume:
HUD AM684 var den 5. april 1942 på antiskibspatrulje.
Ud for Hanstholm så besætningen en tysk patruljebåd.
Flyet angreb med bomber uden at ramme, men det blev
selv ramt af ild fra skibet og fra luftværnskanonerne
placeret i G10 og Stand 3. De 4 flyvere omkom.

Som kortet fra de tyske artillerister viser, blev flyet
observeret kl. 10.38. Det styrtede ned kl. 10.48 ved
punkt A og vraget blev senere fundet ved punkt F.

En del af haleplanet blev bjerget af tyskerne. Det stod i
mange år i en have i Tyskland. Retur til Hanstholm i 2004!





HUD AM684 crashed about here, overview here. Museumscenter Hanstholm has more about this plane.
Summary:
On 5 April 1942 HUD AM684 was on an anti ship patrol over the North Sea. Off Hanstholm the crew spotted a
German patrol boat.
The plane attacked with 4 bombs without hitting the target. Both the patrol boat and the flak batteries in the positions
G10 and Stand 3 near the coast fired at the plane which was so seriously damaged that it crashed close to the coast.
The 4 airmen perished.
The map from a German flak battery shows that the plane was observed at 10.38 hours. At 10.48 it crashed at point A
and later the wreckage was salvaged from point F.

A part of the rudder became a trophy in Hanstholm and later a decoration in a garden in Germany.
It was taken back to Hanstholm in the autumn of 2004.