Hampden I AE148 - Sanderum - Monument Updated: 29 JAN 2010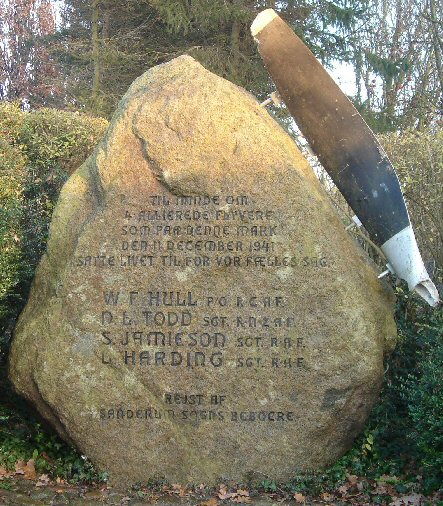 Dette mindesmærke for de 4 flyvere fra HAM AE148
afsløret den 11. december 1949
står her nær Sanderum Kirke ved Holkebjergvej 8, 5250 Odense SV.
Til minde om
4 allierede flyvere
som på denne mark
den 11. december 1941
satte livet til for vor fælles sag.
W.F. Hull P/O RCAF
D.L. Todd Sgt RNZAF
S. Jamieson Sgt RAF
L. Harding Sgt RAF
Rejst af Sanderum sogns beboere.



This memorial to the 4 airmen from HAM AE148,
unveiled on 11 December 1949,
is placed here near Sanderum Church (photo)
at Holkebjergvej 8, DK-5250 Odense SV.
In memory of
4 allied airmen
who in this field
on 11 December 1941
lost their lives for our common cause.
W.F. Hull P/O RCAF
D.L. Todd Sgt RNZAF
S. Jamieson Sgt RAF
L. Harding Sgt RAF

Erected by residents of the parish of Sanderum