Nakskov 2016 Updated: 31 JAN 2018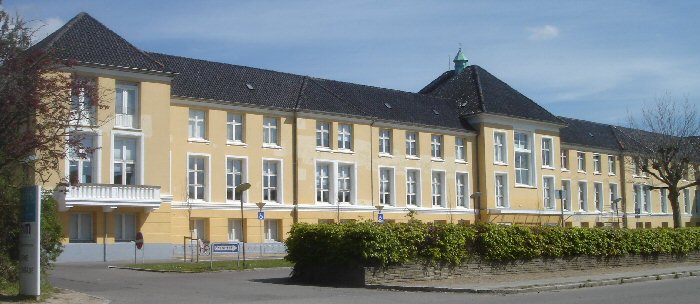 Foto: Anders Straarup 05 MAY 2016

Nakskov Sygehus opført 1912.
Flere bygninger er blevet tilføjet siden da.

Her behandlede Aage Astrup og McDougall
i 1944 3 amerikanske flyvere.
Lækkerier blev hejst fra 2. sal til 1. sal,
så den tyske vagt ved døren intet så!
Se Flyveren og sygeplejersken.

I midten ses hovedindgang
her, overblik her til
Nakskov Sundhedscenter
Hoskiærsvej 17
4900 Nakskov.


Nakskov Hospital



Photo: Anders Straarup 05 MAY 2016

Nakskov Hospital built in 1912.
More buildings have been added since then.
In 1944 Aage Astrup and McDougall
treated 3 American airmen here.
Goodies were hoisted from 2nd floor to 1st floor, so the German guard at the door saw nothing, see The airman and the nurse.
The main entrance here, overview here
to the present
Nakskov Health Centre
is at the middle of the building.