Tuborg Havn - Harbour - Monument Updated: 28 SEP 2009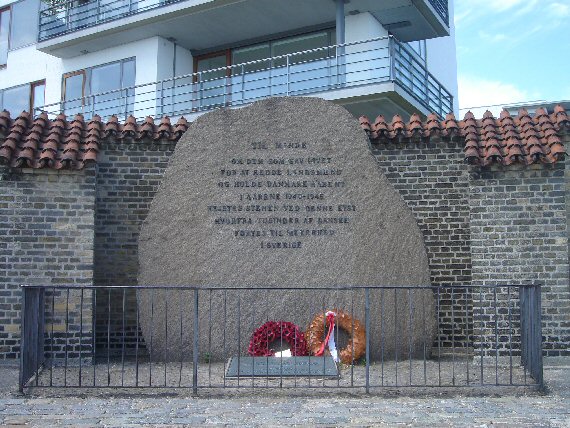 Monument på Tuborg Havn set 25. maj 2008
her ved Tuborg Sundpark 12, 2900 Hellerup.
Mindestenen tegnet af arkitekt Tyge Hvass blev
afsløret 5. maj 1948. (KM)

Mindepladen for flyvere uden kendt grav blev sat af
Tuborg Bryggerierne og den danske modstands-
bevægelse og afsløret af Dronning Ingrid 5. maj 1980.

Se inskriptioner på begge mindesmærker og
Hjælpen til den danske modstandsbevægelse.

Monument at Tuborg Harbour seen 25 May, 2008
here at Tuborg Sundpark 12, DK-2900 Hellerup.
The memorial stone designed by architect Tyge Hvass
was unveiled on 5 May, 1948.

The memorial tablet to airmen with no known grave
was raised by the Tuborg Breweries
and the Danish Resistance Movement and
unveiled by Queen Ingrid on 5 May, 1980.
See inscriptions on both memorials and
Assistance to the Danish Resistance Movement.