Christensens hus - Christensens' house Updated: 24 OCT 2018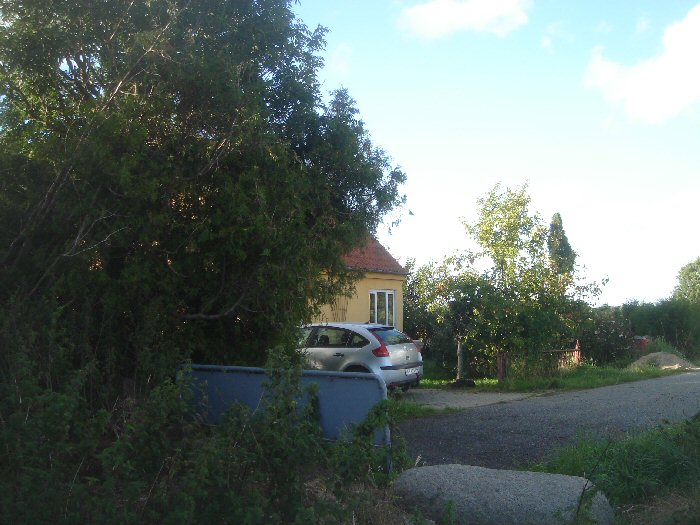 Foto: Anders Straarup 02 SEP 2015
"Natten til den 17. september 1943 var
HAL BB309 på en SOE-mission til Polen, hvor 2 faldskærmsfolk og containere med våben blev nedkastet.
Under returflyvningen blev flyet skudt i brand over Sjælland af en tysk natjager og måtte kort før kl. 5 om morgenen foretage en nødlanding.
Herunder tørnede flyet mod arbejdsmand L. Christensens hus, Stockholtevejen, Slaglille Mark, der brød i brand. L. Christensen, hans kone og mor
samt to børn omkom i huset." (FAF)

Se Christensens grav på
Slaglille Kirkegård.
Stokholtsvej 3, 4173 Fjenneslev er her.

Photo:Anders Straarup 2 SEP 2015
"On the night before 17 September, 1943 Halifax BB309 was on a SOE-operation to Poland, where 2 agents and containers with weapons were dropped.
During the return flight the plane was hit by a German night fighter and caught fire over Zealand. A little before 5 a.m. it had to make an emergency landing. It crashed against unskilled labourer L. Christensen´s house, Stockholtevejen, Slaglille Mark, which caught fire. L. Christensen, his wife and mother and two children perished in the house." (FAF)

See the grave of the Christensens in
Slaglille Churchyard.
Stokholtsvej 3, 4173 Fjenneslev is here.