Magleby Kirkegård, Langeland - Inskription på Mindemuren - The inscription on the Memorial Wall 02 OCT 2012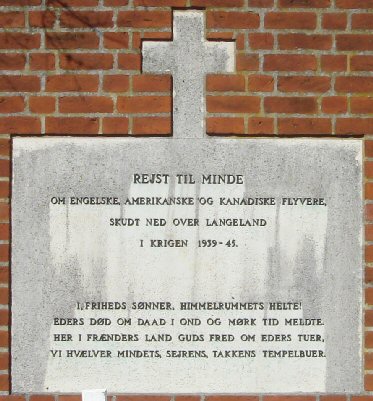 REJST TIL MINDE
OM ENGELSKE, AMERIKANSKE OG KANADISKE FLYVERE,
SKUDT NED OVER LANGELAND
I KRIGEN 1939 - 45.

I, FRIHEDS SØNNER, HIMMELRUMMETS HELTE!
EDERS DØD OM DAAD I OND OG MØRK TID MELDTE.
HER I FRÆNDERS LAND GUDS FRED OM EDERS TUER,
VI HVÆLVER MINDETS, SEJRENS, TAKKENS TEMPELBUER.

ERECTED IN MEMORY
OF BRITISH, AMERICAN, AND CANADIAN AIRMEN,
SHOT DOWN OVER LANGELAND
IN THE WAR 1939 – 1945
YOU SONS OF FREEDOM, HEROES OF THE SKY!
YOUR DEATHS TOLD OF DEEDS IN DARK AND EVIL TIMES.
HERE IN THE LAND OF KINSMEN, MAY THE PEACE OF GOD SURROUND YOUR BURIAL MOUNDS,
WE RAISE THE TEMPLE ARCHES OF MEMORY, VICTORY, AND THANKFULNESS.




Magleby, Langeland, 6 flyvere (7 amerikanske flyvere hjemført, stadig mindet med trækors med navneplader).
Inskription på Mindemuren ved gravstedet for allierede flyvere på Magleby Kirkegård, Langeland.

Magleby, Langeland, 6 airmen (7 American airmen taken home, but still commemorated with wooden crosses with nameplates.)
The inscription on the Memorial Wall at the plot with graves for Allied airmen at Magleby Churchyard, Langeland.