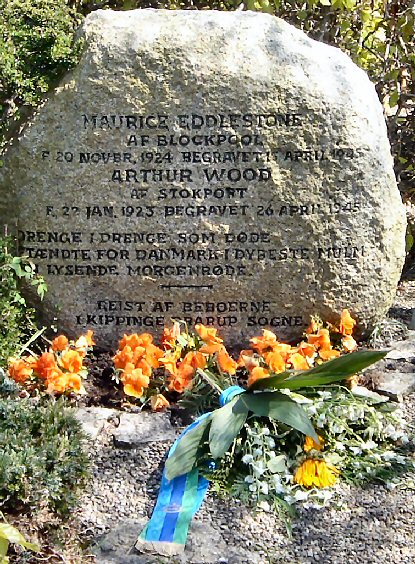 Brarup Kirkegård - Monument Updated: 21 APR 2009

Monument for 2 flyvere begravet ved Brarup Kirke set 6. maj 2008.
Den tyske overgivelse og Danmarks befrielse blev meddelt i BBC aftennyhederne
den 4. maj for 63 år siden. Blomsterne er fra Hjemmeværnet.
Verset af Kaj Munk ses flere steder, bl.a. i Randers.

Monument to 2 airmen buried at Brarup Church seen 6 May, 2008.
The German surrender and the liberation of Denmark was announced in the BBC
evening news on 4 May 63 years ago. The flowers are from the Danish Home Guard.
Maurice Eddleston of Blockpool, born 20 NOV 1924, buried 13 APR 1945
Arthur Wood of Stokport, born 22 JAN 1923, buried 26 APR 1945
Boys, you boys who died
you lit for Denmark in deepest darkness
a luminous red dawn

Erected by the residents of the parishes of Kippinge Brarup.