Mieczyslaw Gorzenski Updated: 16 MAR 2022 Photo from Greg, Niebieska eskadra, see more. Photo: Mogens Jeppesen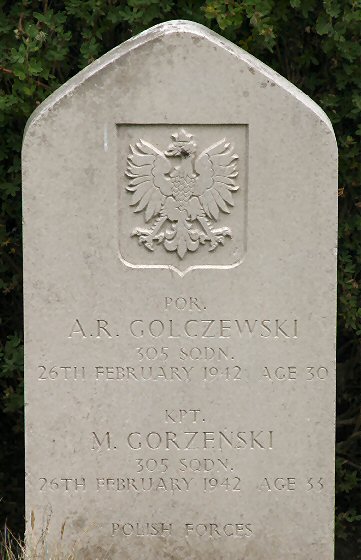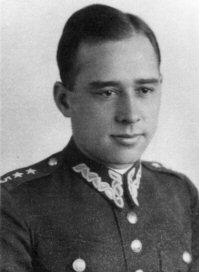 Airman: a113004.htm Surname: Gorzenski Init: M Rank: P/O Service: PAF Sqdn: 305 P_link: p060.htm Plane: WEL W5423 Operation: Bomb G Crash_site: At Jejsing Crash_d: d260242 Buried_d: b050342 C_link: c113.htm At_Next: Aabenraa, R 1-14

Den 26. februar 1942 styrtede WEL W5423 fra Polish Air Force
på hjemtur fra et bombetogt til Kiel ned ved Jejsing, øst for
Tønder. (Omkring her, tæt på her). Flyet eksploderede i nedslaget.
Hele besætningen omkom. p060MACR har mere.
"De polske flyvere begravedes den 5. marts 1942 under udfoldelse af
det ceremoniel, der indgik i en tysk militærbegravelse, herunder afskydning af æressalut og kransenedlæggelse. - - - " (FAF)
Se meget mere ved flyet WEL W5423!
Air Gunner, Pilot Officer Mieczyslaw Gorzenski og de 5 andre besætningsmedlemmer er blandt de 21 flyvere fra PAF, der er begravet i Danmark. 11 fra PAF overlevede.
2 af dem, Mecznik og Wasik, nåede Sverige! 6 flyvere.

On 26 February 1942 WEL W5423 from the Polish Air Force crashed at Jejsing east of Tønder.
(About here). It was on the return flight from a bombing raid on Kiel.
The plane exploded on impact. All of the crew perished. p060MACR has more.
"On 5 March 1942 the Polish airmen were buried with the ceremonial of a German military burial
including firing of a salute of honour and laying of wreaths. - - - " (FAF)
See much more at the plane WEL W5423!
Air Gunner, Pilot Officer Mieczyslaw Gorzenski and the 5 other crew members are among the
21 airmen of the PAF who are buried in Denmark. 11 from the PAF survived. 2 of them,
Mecznik and Wasik, reached Sweden!
See No. 305 Polish Bomber Squadron * Polish Air Forces in France and Great Britain *
Wellington * 305 SQUADRON * WHY 305 SQUADRON? * 21 Polish airmen were buried in Denmark.
Wellington II W5423 SM-R took off from RAF Lindholme at 19:00 on 26 FEB 1942.
(Source: Aircrew Remembered has this including Polish Awards.) 6 airmen.