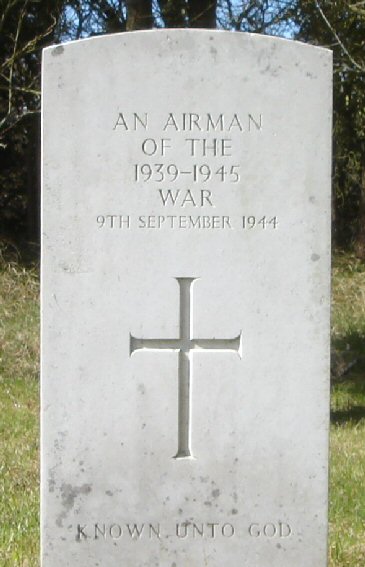 Unknown British Airman Updated: 11 MAR 2019

Airman: a099002.htm Surname: Unknown Init: xx Rank: xx Service: RAF Sqdn: xx
P_link: p444.htm Plane: UNKNOWN Operation: Unknown Crash_site: UNKNOWN
Crash_d: d111111 Buried_d: b170645 C_link: c099.htm At_Next: Sønderho

"Fundet på Sønderho Strand ukendt dato. Jordpåkastelse på Sønderho Assistents Kirkegaard
17. juni 1945. "Ukendt engelsk soldat" ændret til "Ukendt canadisk soldat." Rettelsen ifølge attest
fra den britiske ambassäde af 4. juni 1946, hvor britisk militær gravede ligene op på kirkegården
til nærmere identifikation.

Tilføjelse: Fundet på stranden af den tyske værnemagt som gravede ham ned uden nogen højtidelighed
i vores Assistents Kirkegaards nordvestlige hjørne. Siden forrettede pastor K. Voldum, Nordby, Fanø,
jordpåkastelse på ham sammen med de to øvrige." (Kirkebogen, Sønderho Sogn)

"De to øvrige" var en tysk soldat og A.W. Gowdey.
Mit Fanø har mere om Soldatergrave her.

"Found on the beach at Sønderho on an unknown date. Earth sprinkled on his grave 17 June 1945.
"Unknown English soldier" changed into "Unknown Canadian soldier." The change was due to a
certificate of 4 June 1946 from the British Embassy when British military personnel disinterred the
bodies in the cemetery for further identification.

Addition: Found on the beach by the German Wehrmacht which buried him without any kind of
ceremony at the north western corner of our new cemetery. Later Vicar K. Voldum, Nordby, Fanø,
sprinkled earth on his grave when he officiated at the graveside ceremony of the two others."
(The church register of the parish of Sønderho)
"The two others" were a German soldier and A.W. Gowdey.