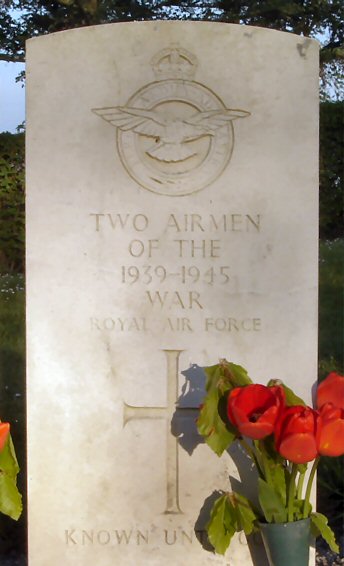 Unknown British Airman 7 Updated: 30 APR 2012

Airman: a096061.htm Surname: Unknown 7 Init: xx Rank: xx Service: RAF Sqdn: xx
P_link: p444.htm Plane: UNKNOWN Operation: Unknown Crash_site: UNKNOWN
Crash_d: d111111 Buried_d: b071042 C_link: c096.htm At_Next: Svinø 3

Kirkebogen fra Svinø Kirkegård, Køng Sogn, opslag 153, linje d om denne flyver:

1942 - 26. September. Nysted. Lolland. Begravet 7. Oktober 1942 i Grav 3.
Ubekendt. Legemsdele (Bryst uden Hoved). Drevet i Land ved Nysted. Englænder.

Begravelsen forrettet af Den tyske Værnemagt.
(Nær Nysted? Måske omkring her.)




The parish register from Svinø Churchyard, the Parish of Køng, opening 153, line d about this airman:

26 September 1942. Nysted. Lolland. Buried on 7 October 1942 in Grave 3.
Unknown. Parts of a body (A chest without the head). Washed ashore near Nysted. Englishman.

The burial was performed by the German Wehrmacht.
(Near Nysted? Maybe about here.)


Known unto God