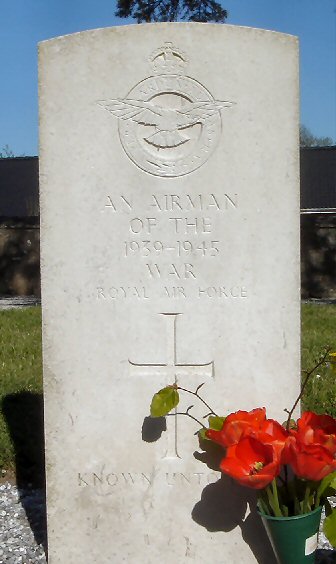 Unknown British Airman 1 Updated: 30 APR 2012

Airman: a096055.htm Surname: Unknown 1 Init: xx Rank: xx Service: RAF Sqdn: xx
P_link: p444.htm Plane: UNKNOWN Operation: Unknown Crash_site: UNKNOWN
Crash_d: d111111 Buried_d: b310543 C_link: c096.htm At_Next: Svinø 30

Kirkebogen fra Svinø Kirkegård, Køng Sogn, opslag 156, linje 25 om denne flyver:
1943 - 28. Maj. Bjerget i Storebælt. Begravet 31. Maj 1943 i Grav 30.
Lig af allieret Flyver. Paa Liget fandtes kun et Legitimationskort fra RAF,
men Skriften var opløst af Vandet og ulæseligt.

Begravelsen forrettet af Sognepræsten, Johs. P. Lindeløv.
(Måske blev liget bjerget i Storebælt omkring her.)

The parish register from Svinø Churchyard, the Parish of Køng, opening 156, line 25 about this airman:
28 May 1943. Recovered in the Storebælt. Buried on 31 May 1943 in Grave 30.
The body of an Allied airman. On the body only an identity card from the RAF was found, but the writing
had been dissolved by the water and was illegible.

Vicar Johs. P. Lindeløv officiated at the graveside ceremony.
(Maybe the body was recovered in the Storebælt about here.)

Known unto God