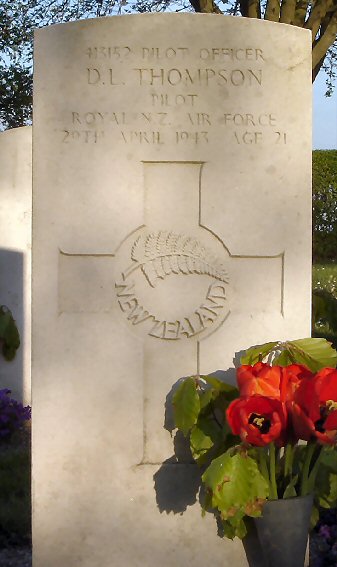 Desmond Lewis Thompson Updated: 17 MAY 2021
Airman: a096037.htm Surname: Thompson Init: D L Rank: P/O Service: RNZAF Sqdn: 75
P_link: p173.htm Plane: STI BF467 Operation: Minelaying Crash_site: Langelandsbælt
Crash_d: d290443 Buried_d: b010543 C_link: c096.htm At_Next: Svinø

Den tyske marines flakbatteri MAA 508 ved Kappel (omkring her) rapporterede et nedskudt fly, der
styrtede i havet omkring her. Hele besætningen omkom. (FT 86-89-11) Se også p173MACR.
Alle besætningsmedlemmerne blev fundet i løbet af 4 uger, enten i Østersøen eller drevet i land på den sydvestlige del af Lolland, og de blev alle begravet på Svinø Kirkegård som angivet. (Kilde: FAF).
Pilot Officer (Pilot) Desmond Lewis Thompson, 21 år, var søn af Samuel Walter og Margaret Adelaide Thompson, Onehunga, Auckland New Zealand. (Kilde: CWGC)
7 flyvere.

The flak battery at Kappel (about here) MAA 508 belonging to the German Navy reported that a plane
had been shot down. It crashed into the sea about here. All of the crew perished. (FT 86-89-11)
See also p173MACR.

All crew members were found within 4 weeks, either in the Baltic Sea or drifted ashore on the southwestern
part of Lolland, and they were all buried in Svinø Churchyard as indicated. (Source: FAF)
Pilot Officer (Pilot) Desmond Lewis Thompson, 21, was the son of Samuel Walter and Margaret Adelaide Thompson, of Onehunga, Auckland New Zealand. (Source: CWGC)
He is remembered on The Walls of Names at the International Bomber Command Centre, Phase 2, P 253.
See No. 75 Squadron RNZAF. 75(nz)squadron has more, also 75(NZ) Squadron RAF Records find
Pilot Desmond Lewis Thompson in the Alphabetical index, scroll down to the entry of 28/041943 - Mining in
the Kiel Bay, and see that this plane with Captain Thompson failed to return.75 Squadron Association NZ + UK.
Stirling III BF467 AA-W took off from RAF Newmarket at 20.38 hrs on 28 APR 1943.
(Source: Aircrew Remembered has this.) Google Map planesRNZAF 7 airmen.