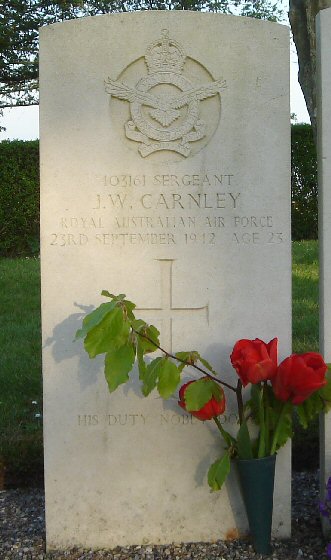 James William Carnley Updated: 11 JAN 2012
Airman: a096003.htm Surname: Carnley Init: J W Rank: Sgt Service: RAAF Sqdn: 9
P_link: p115.htm Plane: LAN R5909 Operation: Bomb G Crash_site: The Baltic Sea
Crash_d: d230942 Buried_d: b091042 C_link: c096.htm At_Next: Svinø

Den 23. september 1942 styrtede LAN R5909 i havet syd for Lolland, måske omkring her 1,5 km
nordøst for Hyllekrog Fyr. (Kilde: AOD)

"83 Lancasters fra 5 BG angreb Wismar (her) og den nærliggende Dornier fabrik. 4 fly gik tabt.
Umiddelbart før R5909 passerede sydkysten af Lolland, eksploderede det i luften, muligvis som følge af et natjagerangreb." (FT 86-88-6) LAN W4230 gik tabt i samme operation.

Sgt C. F. Watson og Sgt J. W. Carnley drev i land ved Hyllekrog, måske omkring her. De blev begge
begravet på Svinø Kirkegård den 9. oktober 1942. Resten af besætningen forsvandt i havet. (Kilde: FAF)
Sergeant James William Carnley, 23 år, var søn af Edward Henry og Ellen Mary Carnley, Cessnock,
New South Wales, Australia. (Kilde: CWGC)
2 flyvere fra LAN R5909 er begravet på Svinø Kirkegård. 5 flyvere fra LAN R5909 har ingen kendt grav. 7 flyvere.



On 23 September 1942 LAN R5909 crashed into the sea south of Lolland, maybe about here 1.5 km
north east of Hyllekrog Lighthouse. (Source: AOD)
"83 Lancasters from 5 BG attacked Wismar (here) and the Dornier factory nearby. 4 planes were lost.
Just before R5909 passed the south coast of Lolland it exploded in the air, possibly due to attack by a
night fighter." (FT 86-88-6) LAN W4230 was lost in the same operation.
Sgt C. F. Watson and Sgt J. W. Carnley were found at Hyllekrog, maybe about here. On 9 October 1942
they were buried in Svinø Churchyard. The rest of the crew disappeared into the sea. (Source: FAF)
Sergeant James William Carnley, 23, was the son of Edward Henry and Ellen Mary Carnley, of Cessnock,
New South Wales, Australia. (Source: CWGC) His duty nobly done

2 airmen from LAN R5909 are buried in Svinø Churchyard. 5 airmen from LAN R5909 have no known graves.
See Bomber Command No. 9 Squadron and IX (B) Squadron Association. This Lancaster, see Lancaster Photos, took off from RAF Swinderby.
Lost Bombers has this. 7 airmen.