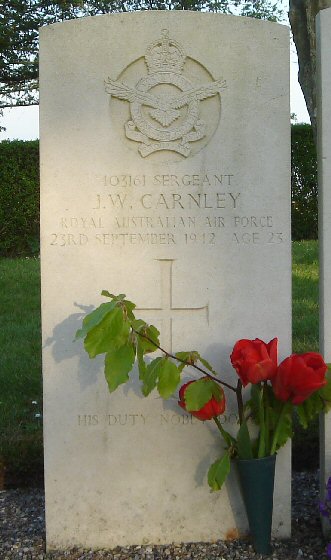 James William Carnley Updated: 05 JAN 2022
Airman: a096003.htm Surname: Carnley Init: J W Rank: Sgt Service: RAAF Sqdn: 9
P_link: p115.htm Plane: LAN R5909 Operation: Bomb G Crash_site: The Baltic Sea
Crash_d: d230942 Buried_d: b091042 C_link: c096.htm At_Next: Svinø

Den 23. september 1942 styrtede LAN R5909 i havet syd for Lolland, måske omkring her 1,5 km
nordøst for Hyllekrog Fyr. (Kilde: AOD+p115MACR)

"83 Lancasters fra 5 BG angreb Wismar (her) og den nærliggende Dornier fabrik. 4 fly gik tabt.
Umiddelbart før R5909 passerede sydkysten af Lolland, eksploderede det i luften, muligvis som følge af et natjagerangreb." (FT 86-88-6) LAN W4230 gik tabt i samme operation.

Sgt C. F. Watson og Sgt J. W. Carnley drev i land ved Hyllekrog, måske omkring her. De blev begge
begravet på Svinø Kirkegård den 9. oktober 1942. Resten af besætningen forsvandt i havet. (Kilde: FAF)
Sergeant James William Carnley, 23 år, var søn af Edward Henry og Ellen Mary Carnley, Cessnock,
New South Wales, Australia. (Kilde: CWGC)
2 flyvere fra LAN R5909 er begravet på Svinø Kirkegård. 5 flyvere fra LAN R5909 har ingen kendt grav.
Se Lancaster fotos.7 flyvere.



On 23 September 1942 LAN R5909 crashed into the sea south of Lolland, maybe about here 1.5 km
north east of Hyllekrog Lighthouse. (Source:AOD+p115MACR)
"83 Lancasters from 5 BG attacked Wismar (here) and the Dornier factory nearby. 4 planes were lost.
Just before R5909 passed the south coast of Lolland it exploded in the air, possibly due to attack by a
night fighter." (FT 86-88-6) LAN W4230 was lost in the same operation.
Sgt C. F. Watson and Sgt J. W. Carnley were found at Hyllekrog, maybe about here. On 9 October 1942
they were buried in Svinø Churchyard. The rest of the crew disappeared into the sea. (Source: FAF)
Sergeant James William Carnley, 23, was the son of Edward Henry and Ellen Mary Carnley, of Cessnock,
New South Wales, Australia. (Source: CWGC) His duty nobly done

Virtual War Memorial Australia has this.
He is remembered on The Walls of Names at the International Bomber Command Centre, Phase 1, Panel 17.
2 airmen from LAN R5909 are buried in Svinø Churchyard. 5 airmen from LAN R5909 have no known graves.
See Lancaster * Lancaster Photos * No. 9 Squadron RAF-Wikipedia * IX (B) Squadron Association.
Lancaster I R5909 VN- took off from RAF Swinderby at 23:02 hrs on 23 SEP 1942. (Source: Aircrew Remembered has this) 7 airmen.