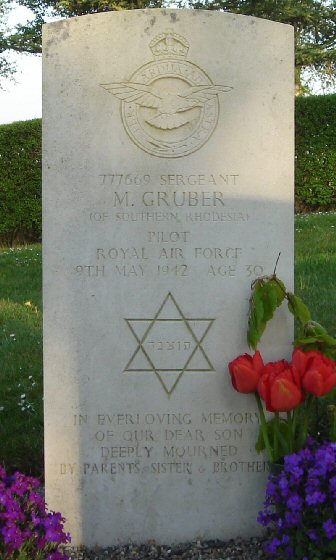 Maurice Gruber Updated: 24 MAR 2021
Airman: a096001.htm Surname: Gruber Init: M Rank: Sgt Service: RAF Sqdn: 50
P_link: p074.htm Plane: MAN L7489 Operation: Bomb G Crash_site: At Marienborg, Møn
Crash_d: d090542 Buried_d: b130542 C_link: c096.htm At_Next: Svinø

Den 8. maj 1942 angreb 193 fly Warnemünde mens 9 Manchesters skulle bombe den nærliggende Heinkel flyfabrik. MAN L7489 blev muligvis ramt af flak og kl. 02:20 (4½ time efter start) sendte flyet radiosignal "Crew bailing out". 6 besætningsmedlemmer nåede at springe ud, før flyet styrtede ned omkring her ved Store Lind nær Marienborg Gods (her - Marienborg Alle 3A, 4780 Stege). Sgt (Pilot) Maurice Gruber, der var frivillig fra Rhodesia, blev dræbt, da bombelasten eksploderede. Den 13. maj blev han begravet som den første allierede flyver på Svinø Kirkegård under udfoldelse af al den honnør, tyskerne på dette tidspunkt gav faldne modstandere. Højtideligheden sluttede med at en tysk deling skød æressalut over graven, hvorpå der senere blev anbragt et kors med navn. (FT 86-87-3 og FAF)
Sergeant (Pilot) Maurice Gruber, 30 år, britisk statsborger, var søn af Sismund og Annie Gruber, Mashaba, Southern Rhodesia, South Africa. Hans bror Rufus Isaacs Gruber faldt også. (Kilde: CWGC) 7 flyvere.

On 8 May 1942 193 planes attacked Warnemünde while 9 Manchesters were to bomb the nearby Heinkel aircraft factory. MAN L7489 may have been hit by flak, and at 02:20 (4½ hours after takeoff) a radio signal was sent from the plane: "Crew bailing out". 6 crew members managed to bail out before the plane crashed about here at Store Lind near Marienborg Estate (here - Marienborg Alle 3A, DK-4780 Stege). Sgt (Pilot) Maurice Gruber, a volunteer from Rhodesia, was killed when the bomb load exploded. On 13 May he became the first allied airman to be buried in Svinø Churchyard with all of the honours given to the fallen adversaries at that time. A German platoon fired a salute of honour over the grave at the end of the ceremony. Later a cross with his name was placed on his grave. (FT 86-87-3 og FAF)
In everloving memory of our dear son deeply mourned by parents sister & brothers
Sergeant (Pilot) Maurice Gruber, 30, a citizen of the UK, was the son of Sismund and Annie Gruber, of Mashaba, Southern Rhodesia, South Africa. His brother Rufus Isaacs Gruber also fell. (Source: CWGC)
He is remembered on The Walls of Names at the International Bomber Command Centre, Phase 1, Panel 43.
See No. 50 Squadron RAF on Wikipedia and RAF-Lincolnshire.info about 50 Squadron RAF. No. 50 & 61 Squadron Association - History of No. 50 Squadron
Manchester I L7489 VN- took off from RAF Skellingthorpe at 21.46 hrs on 08 MAY 1942. (Source: Aircrew Remembered has this + Archive Report.) 7 airmen.