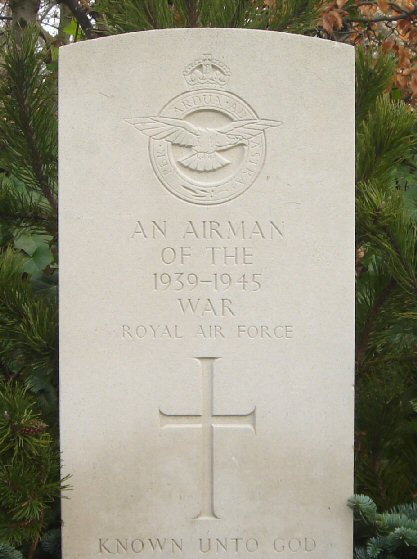 Unknown British Airman
Airman: a069023.htm Surname: unknown Init: xx Rank: Sgt Service: RAF Sqdn: 90
P_link: p444.htm Plane: STI BF508 Operation: Bomb G Crash_site: Fænøsund
Crash_d: d210443 Buried_d: b230443 C_link: c069.htm At_Next: Odense

Den 21. april 1943 styrtede STI BF508 i Fænøsund nær Teglgaarden, måske omkring her. (Kilde: AOD) Det blev ramt af flak på vej til Rostock. Alle ombord omkom.
Ligene af 3 flyvere blev fundet samme nat. De blev ført til Odense og begravet den 23. april
1943 kl. 8 som ukendte. I 1946 blev F/Lt A.S.W. Prioleau identificeret.
De 2 andre flyvere fra STI BF508 blev ikke identificeret. De er de eneste ukendte
flyvere, der er begravet i Odense.
2 andre besætningsmedlemmer savnes også, så det er umuligt af de 4 med sikkerhed at
udpege de 2, der er begravet i Odense.
De 4 uden kendt grav er Sergeant R. H. Dunstan, Sergeant W. T. Leathley,
Sergeant M. Leonard og Sergeant H. Munnery.

On 21 April 1943 STI BF508 crashed into the Fænøsund near Teglgaarden, maybe about here. (Source: AOD) It was hit by flak on its way to Rostock. All on board perished.
That night the bodies of 3 airmen were found. They were taken to Odense. On 23 April 1943
at 8 a.m. they were buried as unknown airmen. In 1946 F/Lt A.S.W. Prioleau was identified.

The 2 other airmen from STI BF508 were not identified. They are the only unknown airmen buried in Odense.
2 more crew members are also missing, so it is impossible of the 4 men to point out the 2
who are buried in Odense.
The 4 airmen with no known graves are Sergeant R. H. Dunstan, Sergeant W. T. Leathley, Sergeant M. Leonard and Sergeant H. Munnery . (Source: AOD)