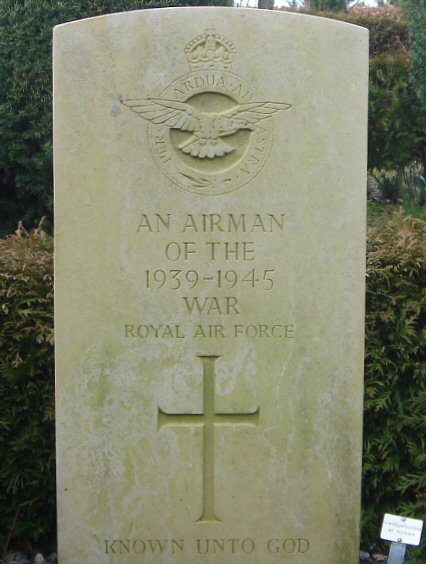 Unknown British Airman Updated: 04 FEB 2012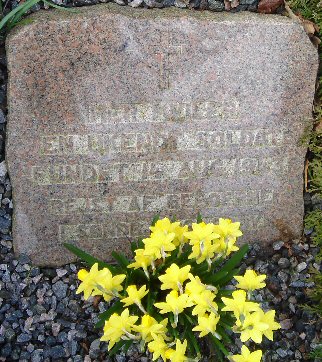 Her hviler en ukendt soldat
fundet 14 AUG 1943.
Rejst af beboerne
i Søndbjerg og Odby.

Here rests an unknown soldier found 14 AUG 1943.
Erected by residents of Søndbjerg and Odby.

Airman: a066001.htm Surname: Unknown Init: xx Rank: xx Service: RAF Sqdn: xx
P_link: p444.htm Plane: UNKNOWN Operation: Unknown Crash_site: UNKNOWN
Crash_d: d111111 Buried_d: b160843 C_link: c066.htm At_Next: Odby

"Fundet den 14. august 1943 på strandbredden ved den nordlige ende af Oddesundbroen, Odby sogn. Transporteret fra findestedet til Odby kapel pr vogn, hvor ligsynet fandt sted.
Begravelsen fandt sted den 16. august 1943." (FAF) Han blev fundet nær brohovedet her.
Se To krigergrave på Odby Kirkegård af Gunnar Noes Mundbjerg i Årsskrift 1982, Thyholm
og Jegindø.

Fra kirkebogen for Odby sogn (fremskaffet af Knud Olesen):
"Man formoder at det er den 7. af mandskabet fra den canadiske maskine, der blev nedskudt fra Rimmer Strand for nogle måneder siden."
I 1998 fik Cowham og Cochrane fra LAN W4945 nye gravsten! Så er identiteten af det meget stærkt opblødte lig uden arme og fødder
(Kilde: Kirkebogen) et åbent spørgsmål!



"Found on 14 August, 1943 on the beach at the north end of the Oddesund Bridge, the parish of Odby.
Transported from the finding place to the chapel of rest in Odby in a carriage. Here his body was inspected by a medical officer.
The burial took place on 16 August, 1943." (FAF) He was found near the bridgehead here.

From the church register of the parish of Odby (provided by Knud Olesen):
"It is believed that he is the 7th member of the crew of the Canadian aircraft that was shot down at Rimmer Strand some months ago."
In 1998 new headstones were dedicated to Cowham and Cochrane from LAN W4945!
Then the identity of the severely macerated body without arms and feet (Source: The church register) is an open question!