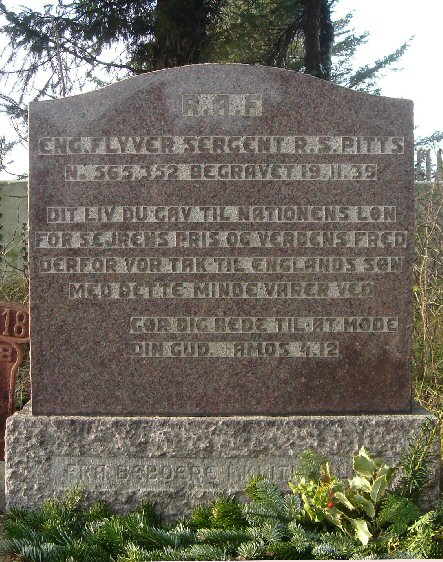 Richard Samuel Pitts Updated: 18 FEB 2017
Airman: a046001.htm Surname: Pitts Init: R S Rank: Sgt Service: RAF Sqdn: 224
P_link: p001.htm Plane: HUD N7216 Operation: Other Crash_site: Off Heligoland.
Crash_d: d300939 Buried_d: b191139 C_link: c046.htm At_Next: Klitmøller

På en foto-mission blev HUD N7216 skudt ned den 30. september 1939 nordøst for Helgoland, måske omkring her. Hele besætningen omkom. Flyets pilot, R.S. Pitts, blev fundet den 17. november 1939 på stranden mellem Klitmøller og Hanstholm i Vester
Vandet sogn, måske omkring her. Han var den første faldne allierede flyver under 2. Verdenskrig, der blev begravet i Danmark. Det var på Klitmøller Kirkegård den 19.
november 1939, længe før Danmark blev besat af tyskerne den 9. april 1940.
(Kilder: AOD og FAF)

"Indsvøbt i Union Jack blev kisten med den omkomne flyver ført fra strandfoged Morten
Odders hjem til kirken, netop som søndagens gudstjeneste var forbi. De fleste kirke-
gængere blev og overværede begravelsen. I følget sås desuden kommandørkaptajn
Juel-Brockdorf og politimester E. Brix, begge i galla, samt konsul Kier fra Lemvig. Forsvarsbrødrene havde sendt foreningens fane til højtideligheden. Blandt de mange
kranse sås bl.a. en fra det danske marineministerium. Sognepræst H.E.N. Skytte
sluttede sin tale med at bede for alle de, der nu måtte kæmpe for deres land." (FAF)
Se også Mindegudstjeneste den 3. oktober 2009 - se fotos -
med prædiken af pastor emer. Thomas Jensen.
Sergeant (Pilot) Richard Samuel Pitts, 26 år, var søn af Samuel Thomas Pitts og
Rose Pitts, Higham Ferrers, Northamptonshire, United Kingdom. (Kilde: CWGC)
Fra HUD N7216 er 1 flyver begravet i Klitmøller, 1 i Tyskland og 2 har ingen kendt grav.



R. A. F. English airman Sergeant R.S. Pitts buried on 19 November 1939.
You gave your life for the praise of your nation
the price of victory and the peace of the world.
Therefore our thanks to the son of England
endure by means of this monument.

Prepare to meet your God. Amos 4.12
From residents of the Parish of Klitmøller. (Translated by KK)
On 30 September 1939 HUD N7216 was shot down on a photo mission northeast of Heligoland, maybe around here. All of the crew perished. Pilot R. S. Pitts was
found on the beach between Klitmøller and Hanstholm in the parish of Vester Vandet, maybe about here. He was the first fallen allied airman in World War II to be
buried in Denmark. On 19 November 1939 he was buried in Klitmøller Churchyard, long before Denmark was occupied by the Germans on 9 April 1940.(AOD and FAF)

"Wrapped up in the Union Jack the coffin with the perished airman was taken from wreck master Morten Olsen´s home to the church right after the ceremony on that Sunday. Most of the churchgoers stayed to attend the funeral. Among the mourners were Senior Grade Commander Juel-Brockdorf and Chief Constable E. Brix, both
of them in full dress, and Consul Kier from Lemvig. The Defence Brothers had sent their flag for the ceremony. Among the many wreaths was one from the Danish
Naval Ministry. At the end of his funeral speech Vicar H. E. N. Skytte prayed for all who now had to fight for their country." (FAF)
Sergeant (Pilot) Richard Samuel Pitts, 26, was the son of Samuel Thomas Pitts and Rose Pitts, of Higham Ferrers, Northamptonshire, United Kingdom.
(Source: CWGC)
Memorial service with a wreathlaying ceremony in Klitmøller Churchyard on Saturday, 3 October 2009 - see photos.
1 airman from HUD N7216 is buried in Klitmøller, 1 in Germany and 2 have no known grave.
This Hudson I took off from the airfield RAF Leuchars ordered by RAF Coastal Command.
See RAF Leuchars - Station History * 224 Squadron RAF * No. 224 Squadron (RAF): Second World War. 4 airmen.