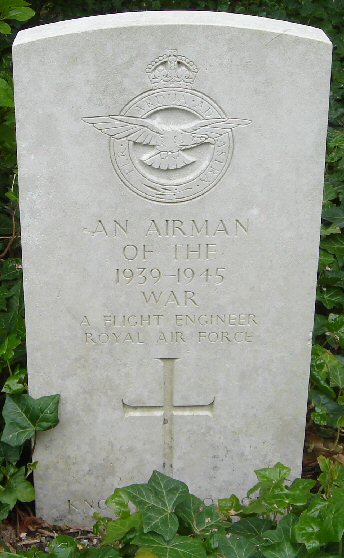 Unknown British Airman Updated: 04 JUN 2009

Airman: a042004.htm Surname: Unknown Init: xx Rank: xx Service: RAF Sqdn: xx
P_link: p444.htm Plane: UNKNOWN Operation: Unknown Crash_site: UNKNOWN
Crash_d: d111111 Buried_d: b010944 C_link: c042.htm At_Next: Kappel


"Fundet drevet i land på Albue strand den 29. august 1944. Begravet den 1. september af sognepræsten." (FAF) Han blev fundet måske omkring her.
Den anden ukendte flyver fundet ved Tranessegaard var i en tilstand, så politiet betegnede ham som "ukendt engelsk eller amerikansk Flyver".
Manden med denne headstone, "a Flight Engineer", må være ham, der blev fundet ved Albue Strand.

"Drifted ashore on Albue beach on 29 August 1944. Buried on 1 September by the Vicar."
(FAF) He was found maybe about here.
The other unknown airman found at Tranessegaard was in a condition that made the police
mention him as an "unknown English or American airman."
The man with this headstone, a Flight Engineer, must be the one who was found at Albue beach.