William Collins Monument Updated: 25 MAR 2021 Photo via Niels Plaschke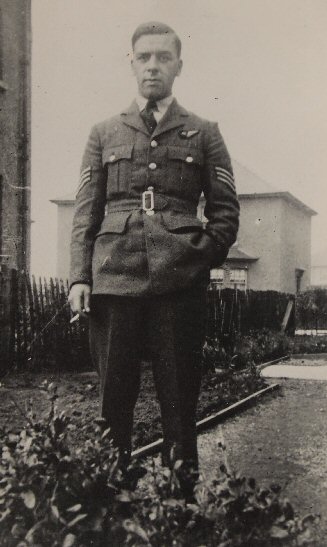 Airman: a041003.htm Surname: Collins Init: W Rank: Sgt Service: RAF Sqdn: 149
P_link: p081.htm Plane: STI R9310 Operation: Minelaying Crash_site: Storebælt off Asnæs
Crash_d: d180542 Buried_d: b100742 C_link: c041.htm At_Next: Kalundborg

Den 18. maj 1942 kl. 01.40 (Kilde: MACR) styrtede STI R9310 i Storebælt 10 km SV for Kalundborg. p081MACR Flyvehistorisk Tidsskrift skriver:
"17.-18. maj 1942 Storebælt SV for Asnæs, 10 km SV for Kalundborg. Stirling Mk. 1 R9310 (OJ-P). 149 BS,
3 BG, Lakenheath, Suffolk. (Minering i Øresund)
32 Stirlings og 28 Wellingtons fra No. 3 BG skulle minere i de danske farvande og ved de frisiske øer.
5 Stirlings og 2 Wellingtons gik tabt. Vejret over det danske område var dårligt, og under overflyvning af
Storebælt blev flyet ramt af flak ved Nyborg, men fortsatte på en NØ-retning. Næste dag fandt fiskere vragdele
i farvandet ud for spidsen af Asnæs, og i de efterfølgende måneder drev ligene af flere besætningsmedlemmer
i land." (FT 88-31-2)
Den 7. juli 1942 blev W. Collins fundet på sydkysten af Røsnæs, omkring her. Han blev begravet den 10. juli
1942 i Kalundborg. (Kilde: FAF)
Sergeant (Air Gunner) William Collins, 20 år, var søn af Davie McPhie Collins og Hughina Collins, Glasgow, United Kingdom. (Kilde: CWGC)
4 flyvere fra STI R9310 blev begravet i Kalundborg og 1 i Kirke Værløse. 2 har ingen kendt grav. 7 flyvere.

On 18 May 1942 at 01.40 hours (Source: MACR) STI R9310 crashed into the Storebælt 10 km SW of
Kalundborg. p081MACR
(Danish) Aviation Historical Review writes:
"17-18 May 1942 Storebælt SW of Asnæs, 10 km SW of Kalundborg. Stirling Mk. 1 R9310 (OJ-P). 149 BS,
3 BG, Lakenheath, Suffolk. (Mining in the Sound)
32 Stirlings and 28 Wellingtons from No. 3 BG were to lay mines in Danish waters and at the Frisian Islands. 5 Stirlings and 2 Wellingtons were lost. The weather over Danish territory was bad. This plane was hit by flak at Nyborg, but it flew on in a north easterly direction. Next day fishermen found debris in the waters off the tip of Asnæs, and the bodies of a number of crew members were washed ashore in the following months." (FT 88-31-2)
On 7 July 1942 W. Collins was found on the south coast of Røsnæs, about here. He was buried in Kalundborg on 10 July 1942. (Source: FAF)
Sergeant (Air Gunner) William Collins, 20, was the son of Davie McPhie Collins and Hughina Collins, of Glasgow, United Kingdom. (Source: CWGC)
He is remembered on The Walls of Names at the International Bomber Command Centre, Phase 2, Panel 147.
4 airmen from STI R9310 were buried in Kalundborg and 1 in Kirke Værløse. 2 have no known grave.
See Bomber Command No. 149 Squadron and 149 Squadron History. This Stirling took off from RAF Lakenheath. 7 airmen.