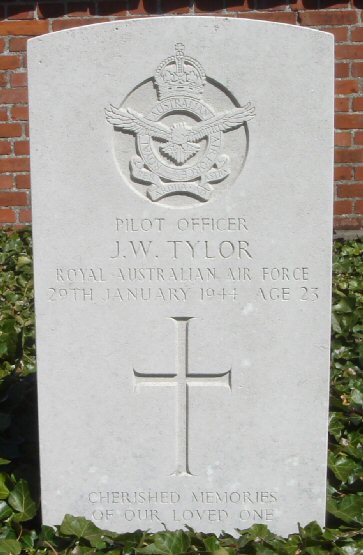 Jack Wilfred Tylor Updated: 06 OCT 2021 See photo

Airman: a021001.htm Surname: Tylor Init: J W Rank: P/O Service: RAAF Sqdn: 460
P_link: p256.htm Plane: HAL HX294 Operation: Bomb G Crash_site: Langelandsbælt
Crash_d: d290144 Buried_d: b180444 C_link: c021.htm At_Next: Faaborg

Den 29. januar 1944 styrtede HAL HX294 i havet øst for Langeland, i forbindelse med et bombetogt til Berlin. Se p256MACR og Flyveruten. Se Google Map p256 HAL HX294 med angivelse af hvor flyverne landede. 1 mand omkom. 6 flyvere endte som krigsfanger. (Kilde: En dråbe i havet) Flyvehistorisk Tidsskrift skriver:
"Flyet blev skudt ned af en tysk natjager, og hele besætningen sprang ud med faldskærm. - - -
Navigatøren, Pilot Officer Jack Tylor, landede i havet og druknede. Hans lig blev fundet ved Nakkebølle strand den 16. april og to dage senere blev han begravet på Fåborg kirkegård." (FT 85-78-20)
Tylor var første mand til at springe ud med faldskærm. (Kilde: En dråbe i havet)
Pilot Officer Jack Wilfred Tylor, 23 år, var søn af Horace Wilfred Alfred og Ethel Rose Tylor, Katanning, Western Australia. (Kilde: CWGC) 7 flyvere. Se foto

On 29 January 1944 HAL HX294 crashed into the sea east of Langeland, in connection with a
bombing raid on Berlin. See p256MACR and Flight Path. See Google Map p256 HAL HX294 with indications of where the airmen landed. 1 man perished. 6 airmen ended af POWs.
(Source: A drop in the sea) The IBCC has operational details at the end the entry about this airman.
(Danish) Aviation Historical Review writes: "The plane was shot down by a German night fighter and all of the crew bailed out. - - - Navigator, Pilot Officer Jack Tylor landed in the sea and drowned. His body was found at Nakkebølle Beach on 16 April 1944. He was buried at Faaborg 2 days later." (FT 85-78-20)
Tylor was the first airman to bail out. (Source: A drop in the sea)

Pilot Officer Jack Wilfred Tylor, 23, was the son of Horace Wilfred Alfred and Ethel Rose Tylor, of Katanning, Western Australia. (Source: CWGC) See photo
Cherished memories / of our loved one Virtual War Memorial Australia has this.
He is remembered on The Walls of Names at the International Bomber Command Centre, Ph 2, P 256.
See 466 Sqn RAAF - Wikipedia * Australian War Memorial has Halifax crew of No. 466 Squadron RAAF.
Halifax * Halifax-BC Museum.Canada * Halifax-RAF Museum * Halifax-The Yorkshire Air Museum. See Halifax Print and Halifax - Bless 'Em All.
Halifax III HX294 HD-A took off from RAF Leconfield at 00.07 on 28 JAN 1944. (Source: Aircrew Remembered has this.) 7 airmen.