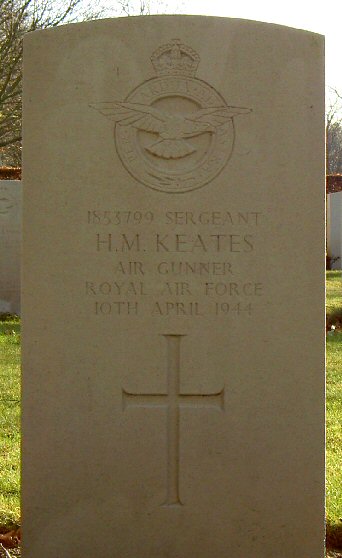 Henry Mostyn Keates Photo: Knud Riis Updated: 16 JAN 2012

Airman: a014229.htm Surname: Keates Init: H M Rank: Sgt Service: RAF Sqdn: 12
P_link: p291.htm Plane: LAN JB709 Operation: Minelaying Crash_site: The North Sea
Crash_d: d100444 Buried_d: b150444 C_link: c014.htm At_Next: Esbjerg, A. 13. 22

"Natten til den 10. april 1944 foretog RAF en stor mineudlægningsoperation ved Danzig (Gdansk her).
I forbindelse med overflyvningen af dansk område blev mindst 7 britiske bombefly skudt ned, mens flere nedstyrtede i Nordsøen, i større eller mindre afstand fra Vestkysten. Fra 6 fly nedstyrtet i Midtjylland, og
2 i Nordsøen, ligger 35 omkomne flyvere begravet i Esbjerg.
Samtlige flyvere begravedes den 15. april 1944." (FAF)
LAN JB709 styrtede i Nordsøen. Ingen overlevende. H. M. Keates, en af flyets skytter, blev fundet drevet
ind ved Blåvand (omkring her) den 13. april 1944.
Sergeant (Air Gunner) Henry Mostyn Keates var fra United Kingdom. (Kilde: CWGC)
De 6 andre flyvere fra denne besætning har ingen kendt grav. 7 flyvere.



"On the night before April 10 1944, the RAF carried out a big minelaying operation at Danzig (Gdansk here). At least 7 British bombers were shot down as they flew over Danish territory, and several crashed
into the North Sea, off the west coast of Jutland. From 6 planes crashed in the central part of Jutland, and
2 in the North Sea, 35 airmen were buried in Esbjerg. All of the airmen were buried on April 15 1944."(FAF)
LAN JB709 crashed into the North Sea. No survivors. Air Gunner H. M. Keates was found drifted ashore
near Blaavand (about here) on 13 April 1944.
Sergeant (Air Gunner) Henry Mostyn Keates was from the United Kingdom. (Source: CWGC)
The 6 other airmen of this crew have no known grave.
See Bomber Command No. 12 Squadron and 12 Squadron RAF at RAF-Lincolnshire.info
RAF Wickenby Memorial Collection. This Lancaster - see Lancaster Photos - took off from RAF Wickenby.
7 airmen. Lost Bombers has this.