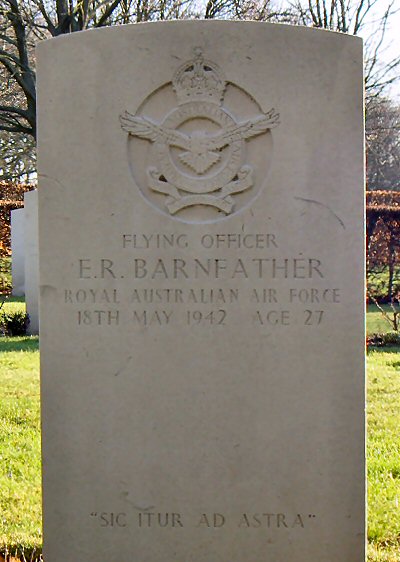 Eliot Ralph Barnfather Photo: Knud Riis Updated: 23 JAN 2022
Airman: a014029.htm Surname: Barnfather Init: E R Rank: F/O Service: RAAF Sqdn: 218
P_link: p080.htm Plane: STI N6071 Operation: Minelaying Crash_site: Near Lyne
Crash_d: d180542 Buried_d: b230542 C_link: c014.htm At_Next: Esbjerg, A3. 11. 13

Den 18. maj 1942 styrtede STI N6071 ned ved Lyne (der er her) vest for Ølgod.
Flyet var på minelægningsoperation over de østlige danske farvande.
6 mand blev taget til fange, lettere såret eller uskadte. (Kilde: FAF)
Dette Stirling bombefly styrtede brændende ned lige syd for Lydum Å ved Hustedvej 7, 6880 Tarm her, overblik her, kl. 01.00 den 18. maj 1942. "Ved nedstyrtningen sprang lasten af bomber og miner
i luften, så vinduerne klirrede og dørene sprang op. Flere lysbomber eksploderede i luften over huset." (Kilde: Beretning fra daværende ejer Anders Jensen. Fra Lyne Lokalarkiv via Jørn Christensen)

"Ramt af flak og forladt kl. 01.00 nær Lyne, 12 km SSV for Tarm. 3 besætningsmedlemmer blev
såret af granatsplinter, mens de var på vej ned med faldskærm, og F/O Barnfather fra RAAF,
advokat i det civile, døde efter at være blevet ramt i maven. Han blev begravet den 23. maj 1942 i Esbjerg." (Lost Bombers)
Flying Officer Eliot Ralph Barnfather, 27 år, var søn af Thomas Stanley Barnfather og
Ruby Alice Barnfather, Geelong, Victoria, Australia. Han var advokat i det civile. (Kilde: CWGC)



On 18 May 1942 STI N6071 crashed near Lyne (which is here) west of Ølgod.
The plane was on a minelaying operation over the eastern Danish waters.
6 men were captured, slightly injured or unharmed. (Source: FAF)
Flying Officer Eliot Ralph Barnfather, 27, was the son of Thomas Stanley Barnfather and
Ruby Alice Barnfather, of Geelong, Victoria, Australia. Barrister and Solicitor. (Source: CWGC)
"SIC ITUR AD ASTRA" = "THUS SHALL YOU GO TO THE STARS" from Virgil: The Aeneid.
Virtual War Memorial Australia has this.
He is remembered on The Walls of Names at the International Bomber Command Centre, P 2,P127.
This Stirling bomber crashed, burning, just south of the Lydum Stream near Hustedvej 7, 6880 Tarm here, overview here, at 0100 hours on 18 May 1942.
"The load of bombs and mines detonated at the crash, so windows jingled and doors flew open.
A number of flares detonated in the air above our house." (Source: Account from the then owner Anders Jensen. From Lyne Lokalarkiv via Jørn Christensen)

"Hit by Flak and abandoned 0100 near Lyne (which is here), 12 km SSW of Tarm, Denmark. Three members of the crew were wounded by shrapnel as they descended by parachute and F/O Barnfather RAAF, a Barrister and Solicitor in civilian life, died after being struck in the stomach. He was buried 23May42 in Esbjerg (Fourfelt) Cemetery." (Lost Bombers)
Stirling I N6071 HA-G took off from RAF Marham at 23:16 on 17 MAY 1942. (Source: Aircrew Remembered has this.)
See No. 218 (Gold Coast) Squadron RAF - Wikipedia and 218 (Gold Coast) Squadron 1936 - 1945. 7 airmen.