Frank McGregor Updated: 21 SEP 2011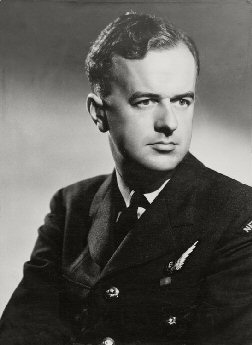 From his son Pete McGregor
Airman: o888204.htm Surname: McGregor Init: F Rank: Sgt Service: RNZAF Sqdn: 75
P_link: p242.htm Plane: STI BF461 Operation: Minelaying Crash_site: Near Kallerup
Crash_d: d041143 Buried_d: o888 C_link: o888.htm At_Next: POW

STI BF461 - se foto af besætningen -styrtede ned her ved Kallerup den 4. november 1943. (Kilde: Mogens Kruse)
Dette er den korte version:

"I forbindelse med en mineudlægningsoperation til Østersøen blev et Stirling fly skudt ned af 2 tyske JU88 natjagere.
Flyet nedstyrtede ved Kallerup, sydvest for Thisted (overblik her). Et dræbt besætningsmedlem, Sgt Champion, blev
begravet den 13. november 1943.
Fem overlevende flyvere blev taget til fange, mens en (W.F. Morice) flygtede fra Thisted Sygehus og blev hjulpet til
Sverige via Biersted Præstegård og Frederikshavn." (FAF)
Meget materiale om Gordon Williams, Frank McGregor og flystyrtet sendt fra Lars Kanstrup, Mogens Kruse og
Verner Jørgensen til www.airmen.dk.
Frank McGregor mødte en del danskere, inden han blev taget til fange. Se den udførlige beretning fra Frank McGregor
og hvad Verner Jørgensen fortæller.
Se Thyland Idrætsefterskole her , Vorupørvej 73, 7700 Thisted. Lige vest for skolen var der under krigen et tysk radartårn her med en rækkevidde på 400 km! Se foto fra skolens hjemmeside. Radaren af typen Bernhard, kodenavn Be10, havde en stor ringformet sokkel med en diameter på 22 m. Antennen var 27 m høj og 34 m i bredden.
Første del af Frank McGregor´s beretning (5½ af 77 sider) oversat af Mogens Kruse. Se links til hele beretningen i engelsk version.
Frank McGregor landede med sin faldskærm her ca. 150 m nordvest for Kæruldvej 4, 7700 Thisted. Det var omkring 2 km vest for hvor STI BF461 styrtede ned.
Herfra går han mod sydøst. Om morgenen den 5. november 1943 vadede han over Todbøl Bæk her og sov nogle timer i skoven, Todbøl Plantage.
Om aftenen den 5. november 1943 fik han mad lidt syd for Todbøl Plantage hos familien Klostergaard her, nu Todbølvej 18, 7752 Snedsted.
7 flyvere.

STI BF461 - see photo of the crew - crashed here at Kallerup on 4 November 1943. (Source: Mogens Kruse) This is the short version:
"A Stirling was shot down by 2 German JU88 night fighters in connection with a minelaying operation to the Baltic Sea. The plane crashed at Kallerup southwest of
Thisted (overview here). A killed crew member, Sgt Champion, was buried on 13 November 1943.
5 surviving airmen were captured, while one (W.F. Morice) evaded from Thisted Hospital and was helped to Sweden via the vicarage in Biersted and Frederikshavn." (FAF)
Lars Kanstrup, Mogens Kruse and Verner Jørgensen sent much about Gordon Williams, Frank McGregor and the air crash to www.airmen.dk.
Frank McGregor met a number of Danes, before he was captured. See the extensive Account from Frank McGregor and more.
On 27 August 2009 Pete McGregor sent the above WW II photo of his father to www.airmen.dk - Copyright belongs to the estate of Frank McGregor.
On his website Pohanginapete Pete McGregor has written a short post on his main blog titled Insanity and improbability.
"The focus of the post is less about the history of BF461 and more about my hope that events like that won´t happen again."

Frank McGregor landed with his parachute here about 150 m northwest of Kæruldvej 4, 7700 Thisted. It was about 2 km west of the crash site of STI BF461.
From here he walked to the southeast. In the morning of 5 November 1943 he waded across Todbøl Brook here and slept for some hours in the wood.
On the evening of 5 November he had supper a little south of the wood at the Klostergaards here, now Todbølvej 18, DK-7752 Snedsted.

Sergeant Frank McGregor wrote these texts and gave them to a number of Danes. He passed away some years ago.
Mogens Kruse found his children on the internet, and they kindly gave their permission to bring the texts on www.airmen.dk stressing this condition:
Copyright for this article belongs to the estate of Frank McGregor.
Frank McGregor´s Account about the Mission to Denmark and what happened after the Crash (70 pages, 5.72 MB pdf)
Frank McGregor about STALAG IVB THE WEEK BEFORE LIBERATION (7 pages, 0.6 MB pdf)

See Bomber Command No. 75 Squadron and No. 75 Squadron RNZAF. This Stirling took off from RAF Mepal.
7 airmen.