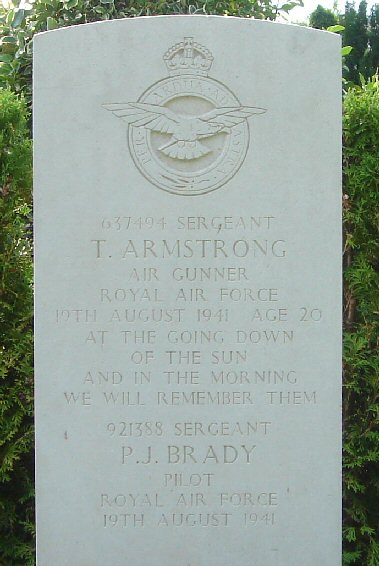 Patrick John Brady Updated: 06 JAN 2012

Airman: a106003.htm Surname: Brady Init: P J Rank: Sgt Service: RAF Sqdn: 9
P_link: p043.htm Plane: WEL R1455 Operation: Bomb G Crash_site: Sea SW of Højer
Crash_d: d200841 Buried_d: b230841 C_link: c106.htm At_Next: Tønder

"I forbindelse med et bombetogt til Kiel nedstyrtede Wellington R 1455 i Vadehavet syd for Højer Sluse, et par km ude (omkring her). Fra dansk side opgives nedstyrtningen til at være sket lige efter midnat, den 20. august. Hele besætningen omkom.
Begravelsen af de omkomne flyvere blev foretaget af en tysk feltpræst den 23. august 1941. Ved højtideligheden var der et fælles dansk-tysk kommando. Først tysk militærorkester, så kisten svøbt i Union Jack, derefter fulgte officerer i aldersorden: Den danske garnisonskommandant, oberst A. Poulsen, den tyske kommandant, major Pösche, kaptajn Oldfeldt. Desuden et tysk æreskompagni (reduceret) og til sidst en gruppe danske soldater under kommando af en oversergent." (FAF)
Sergeant (Pilot) Patrick John Brady var fra United Kingdom. (Kilde:CWGC)
6 flyvere.



"In connection with a bombing raid on Kiel Wellington R 1455 crashed in the tidal area south of Højer Lock about 2 km off the coast (about here). From the Danish side the crash is reported to have happened just after midnight, 20 August. All of the crew perished.
The burial of the deceased airmen was carried out by a German army chaplain on 23 August 1941. At the ceremony there was a joint Danish-German commando. First a German military band played, then the coffin was wrapped in the Union Jack, then officers according to their ranks lined up: the Danish garrison commander Colonel A. Poulsen, the German commander Major Pösche and Captain Oldfeldt. Then a German company (reduced) as guard of honour and last a group of Danish soldiers commanded by a Staff Sergeant." (FAF)
Sergeant (Pilot) Patrick John Brady was from the United Kingdom. (Source: CWGC)
See Bomber Command No. 9 Squadron and IX (B) Squadron Association.
This Wellington took off from RAF Honington. Lost Bombers has this. 6 airmen.