Lancaster III ND420 - At Brande - Monument Updated: 22 MAY 2019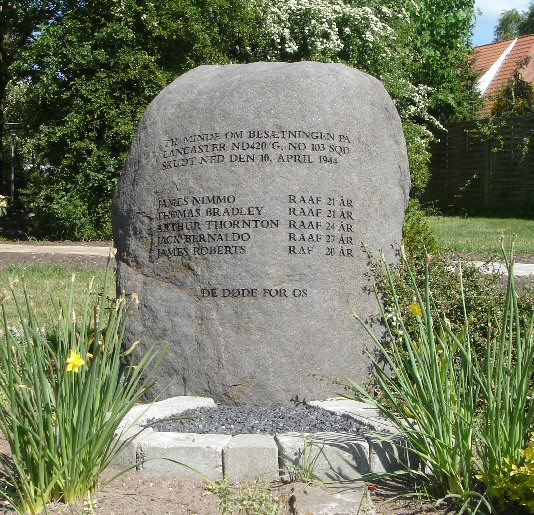 Monument for besætningen på LAN ND420
rejst her ved Ørbæklund 1, 7330 Brande.

Det blev afsløret den 10. april 1999 netop 55 år efter styrtet.
"Den australske ambassadør og repræsentanter for
Royal Air Force, forsvaret og hjemmeværnet var inviteret,
og ikke mindst de to gamle veteraner fra Australien, der
afslørede stenen, gjorde dagen til noget særligt." Citat fra
Lancaster ND 420 - skudt ned den 10. april 1944
(pdf, 1.13 MB, 34 sider) af Poul Westergaard Jensen.



In memory of the crew of Lancaster ND420/G No 103 SQD
shot down on 10 April 1944
James Nimmo 21
Thomas Bradley 21
Arthur Thornton 24
Jack Bernaldo 27
James Roberts 20
They died for us

Monument to the crew of LAN ND420
erected here at Ørbæklund 1, DK-7330 Brande.

It was unveiled on 10 April 1999, exacly 55 years after the crash.
"The Australian Ambassador and representatives from
the Royal Air Forces, the Danish armed forces and
the Danish Home Guard were invited, and not least the two
old veterans from Australia who unveiled the stone, made
it a very special day." Quote from
Lancaster ND420 - shot down on 10 April 1944
(pdf, 1.13 MB, 34 pages) by Poul Westergaard Jensen
in Danish, but with photos and some documents in English.