Stirling I R9351 - Storebælt off Nyborg - Propeller Updated: 03 OCT 2008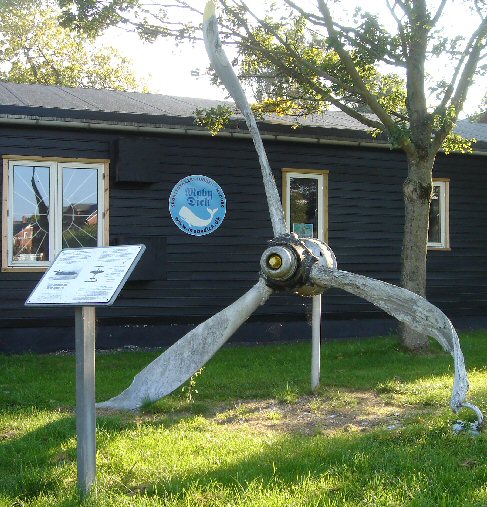 Propel fra STI R9351 opstillet ved Nyborg Lystbådehavn her
lige nord for Havnepromenaden 8, 5800 Nyborg,
klubhus for Sportsdykkerklubben Moby Dick, Nyborg., Nyborg.
Tekst på informationstavlen ved Propel fra Short Stirling MK I
"Propellen blev fundet af Kaj D. Jensen på positionen 55.17.37N/10.54.57E
og bjærget af dykkere fra Dykkerklubben Moby Dick, Nyborg.
Den 15. juni 1990 blev vraget bortsprængt i forbindelse med
bygningen af Storebæltsbroen."

Nedstyrtningen mellem Nyborg og Sprogø var omkring her.
Se også denne Short Stirling på siden Flystyrt.

Propeller from STI R9351 placed at Nyborg Marina here
just north of Havnepromenaden 8, DK-5800 Nyborg,
club house of Sport Diving Club Moby Dick, Nyborg.
Text on the information table at Short Sterling MK I Propeller
"The propeller was found by Kaj D. Jensen at 55.17.37N/10.54.57E
and salvaged by divers from the Moby Dick diving club at Nyborg.
On 15th June 1990 the wreck was blown up in connection with
the construction of the bridge across the Great Belt."
The crash between Nyborg and Sprogø was about here.