Peter James Byrne, Royal Navy Updated: 17 APR 2017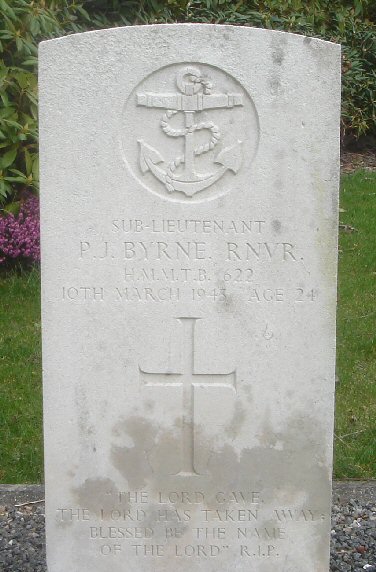 Photo by Anders Straarup 05 APR 2017



Sub-Lieutenant Peter James Byrne of the
Royal Naval Volunteer Reserve, H.M.M.T.B. 622
died on 10 March 1943, 24 years old.

He was the son of James and Louisa Mary Byrne, of Sidcup, Kent.

Buried in Grave 701, Lemvig.





Denne mand fra Royal Navy er ikke medtaget i databasen med Allierede flyvere.
Han blev begravet på Lemvig Kirkegård den 29. april 1943 af pastor Bendsen. (Kilde: Kirkebogen)

Hans skib H.M.M.T.B. 622 blev sænket af kanonild fra tyske overfladeskibe
ud for Terschelling i Holland den 10. marts 1943.



This man of the Royal Navy is not included in the database with Allied airmen.
He was buried in Lemvig Cemetery on 29 April 1943. (Source: The church register)

His ship H.M.M.T.B. 622 was sunk by gunfire from German surface vessels
off Terschelling, the Netherlands on 10 March 1943.