Ellehammer Replica Photo Ellehammer 1906 * Pokalen / The Cup Photos 26 JUL 2019: Anders Straarup Updated: 08 AUG 2019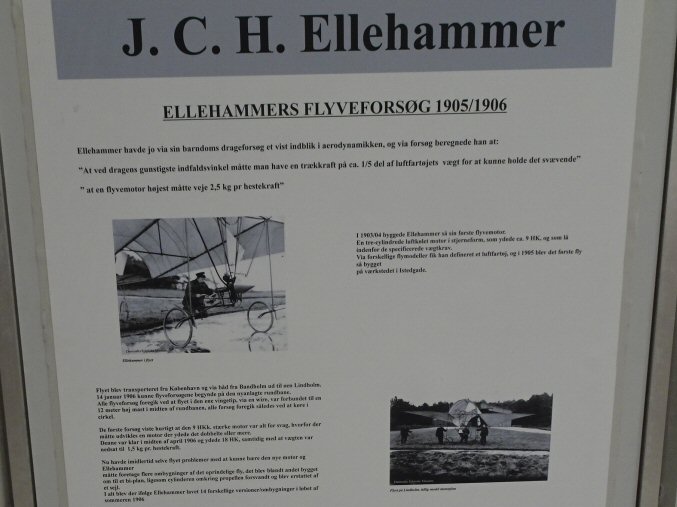 Ellehammer lavede mange forsøg på
at flyve i 1905/1906.

Et af problemerne var at finde en stærk
motor, der ikke var for tung.
Hvordan skulle vingerne være?

Ellehammer lavede 14 forskellige
versioner i løbet af sommeren 1906.

En wire fra en mast, 12 m høj, var
forbundet med en vingespids.
Det var på øen Lindholm her.
Den 12. september 1906 fløj han bundet
til pælen 42 m i en højde af 40 cm, se foto.

Ellehammer tried a number of times
to fly in 1905/1906.
One of the problems was to find a strong
engine which was not too heavy.
How were the wings to be made?
Ellehammer made 14 different versions
during the summer of 1906.

A wire from a pole, 12 m tall, was
connected to a wing tip.
That was on the island of Lindholm here.

On 12 SEP 1906 he flew a tethered flight
of 42 m at an altitude of 40 cm, see photo.