B 17G 42-31619 Sosegård, Bornholm - Memorial Plaque - Bottom half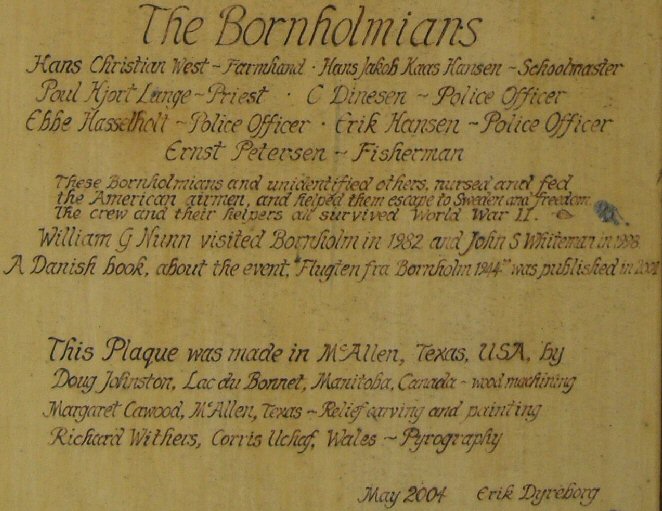 Photos from Erik Dyreborg Updated: 21 FEB 2009

Mindetavle. Se øverste halvdel.

B17 42-31619 nødlandede nær denne gård,
ca. 1600 m mod sydvest her.
Disse bornholmere og andre uidentificerede
plejede de amerikanske flyvere, gav dem mad
og hjalp dem til at flygte til Sverige og frihed.
Besætningen og deres hjælpere
overlevede alle Anden Verdenskrig.
Se en officiel tak fra General Dwight D. Eisenhower
til Ebbe Hasselholt, en af hjælperne.

Memorial plaque. See the top half.

B17 42-31619 crash landed near this farm,
about 1 mile to the southwest here.
These Bornholmians and unidentified others,
nursed and fed the American airmen,
and helped them escape
to Sweden and freedom.
The crew and their helpers
all survived World War II.
See the citation from General Dwight D. Eisenhower
to Ebbe Hasselholt, one of those who helped.