The Escape From Bornholm 1944 in The Lucky Ones Picture from Erik Dyreborg Updated: 02 JAN 2009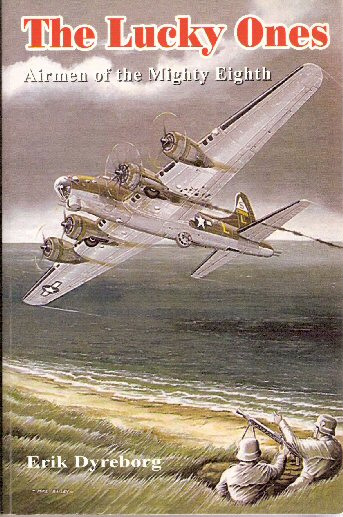 Samme omslagsbillede som Flugten fra Bornholm 1944 af Erik Dyreborg.
Se B17 42-31619 * Mindetavle * Fra basen til Bornholm * De 10 flyveres flugtruter * "Carl"

Same cover picture as on the book in Danish by Erik Dyreborg.
See B17 42-31619 * Memorial plaque * From base to Bornholm * Escape routes * "Carl"

The story is included in The Lucky Ones: Airmen of the Mighty Eighth by Erik Dyreborg,
(See his books in English) From p. 273:

The Escape From Bornholm 1944
Narrated by the crew - 401st Bomb Group, their helpers on Bornholm and the Author.
"This story, "The Escape from Bornholm 1944", is dedicated to the ten Airmen who crash
landed with their B-17 on the fields at Sose, Wednesday May 24, 1944 and last but not least
dedicated to the people on Bornholm who helped them evade and escape.
The story is about people who all participated in the war in one way or another. It is about the
American airmen who were "thrown" into WW II with very little training. It is about the people
on Bornholm who found them, took care of them, helped them evade capture and escape to
Sweden and thus saved the airmen from an uncertain destiny as POWs in Nazi Germany.
When I started my research I found that the people on Bornholm, who risked their live by
helping the airmen, were only mentioned on a couple of pages in a few books and in a few
columns in some newspapers.
These operations, carried out by the local people, were not only voluntary but also extremely
dangerous - beyond any imagination! And sad as it may be - they were soon forgotten!
This is the datailed and true story, narrated the the Airmen themselves and their helpers on
Bornholm."