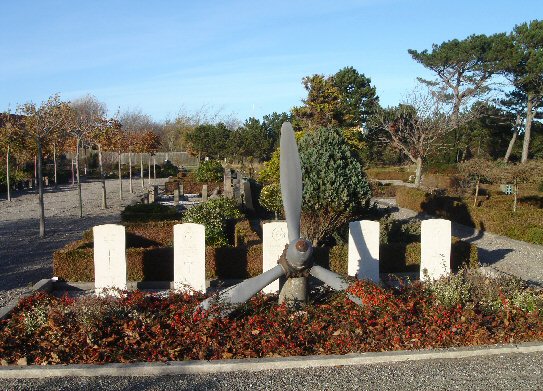 Skagen, 4 flyvere.
Skagen Assistens Kirkegård, Chr. X´s Vej 30, 9990 Skagen
i Frederikshavn Kommune.

Find gravene: Efter indkørslen følg alleen, der ses til venstre på dette foto mod nord til gravene her. Den hvide headstone til venstre er for en ukendt sømand fra krigen 1939-45.
Propellen er en De Havilland needle type propeller.
Den sad på fly med Merlin motor, som Mosquito, Lancaster og andre.
Kilde: Henning Knudsen, som har 35 års erfaring med fly fra 1939-45.

Skagen, 4 airmen.
Skagen Assistens Kirkegaard, Chr. X´s Vej 30, DK-9990 Skagen
in the Municipality of Frederikshavn.

Find the plot: After the entrance follow the alley you see in the left part of this photo to this plot here. The headstone to the left is to an unknown sailor of the war 1939-1945.

The propeller is a De Havilland needle type propeller.
It was used on planes with Merlin engines (Mosquito, Lancaster and others). Source: Henning Knudsen. He has an experience of 35 years
with WWII aircraft.