Randbøl Kirkegård - Churchyard Updated: 11 APR 2012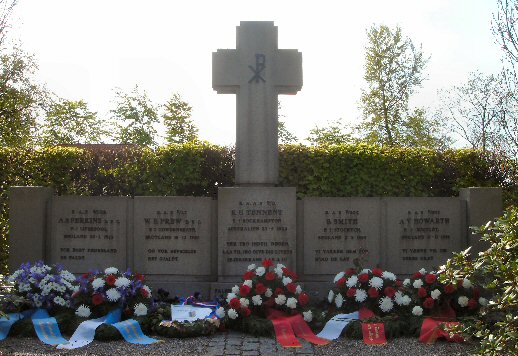 Randbøl, 5 flyvere.
Randbøl Kirke, Randbølvej 69, 7183 Randbøl i Vejle Kommune.
Indgangen er her. Dette gravsted er her nord for kirken.
Se hele teksten.
Kransene er fotograferet 5 maj 2008 - lagt 24 timer tidligere.
En mindesten er rejst på nedstyrtningsstedet her.
Se kirken på nettet.




Randbøl, 5 airmen.
Randbøl Kirke, Randbølvej 69, DK-7183 Randbøl in the Municipality of Vejle.
The entrance is here. This plot is here north of the church.
See all of the text.
The photos of the wreaths are from 5 May, 2008 - laid 24 hours earlier in the evening, when the liberation of Denmark was announced in a broadcast
from the BBC, London.
A memorial stone is erected at the crash site here.
See the church on the internet.