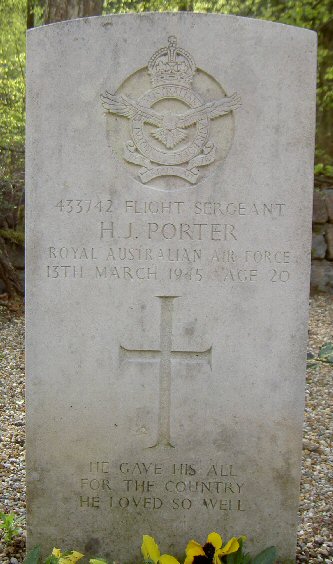 Harvey James Porter Photo: Knud Riis Updated: 23 JAN 2012

Airman: a101002.htm Surname: Porter Init: H J Rank: F/Sgt Service: RAAF Sqdn: 103
P_link: p409.htm Plane: LAN ME449 Operation: Minelaying Crash_site: Østergårde at Tarm
Crash_d: d120345 Buried_d: b120845 C_link: c101.htm At_Next: Tarm

"Efter at have udlagt miner i Kattegat natten til den 13. marts 1945 var en Lancaster på vej hjem til
England. Over Vestjylland blev flyet imidlertid meget pludseligt angrebet af en tysk natjager og skudt i brand.
Det lykkedes 5 af de 7 besætningsmedlemmer at springe ud med faldskærm, mens de to skytter, D. Morris
og H.J. Porter, endnu sad i flyet, da det brændende styrtede ned på gdr. Svend Jensens mark i Østergårde." (FAF) Styrtet var her, overblik her. (Kilde: Knud Raunkjær) Det er omkring 300 m nordvest for Skærbækvej 2, 6880 Tarm.
Se historien om Englændergravene. Se den danske mindesten mellem de to headstones og
RAF gravene i Tarm fra Arne Mosgaard.
Se øjenvidneberetning af Knud Raunkjær på siden Danmarks Befrielse 5. maj 1945. Raunkjærgaard er her.
Flight Sergeant Harvey James Porter, 20 år, var søn af John James Porter og Stella May Porter, Five Dock, New South Wales, Australien. (Kilde: CWGC)

Fra LAN ME449 blev 2 flyvere begravet ved Tarm og 5 flygtede til Sverige. Se Lancaster fotos.
7 flyvere.

"After a mine laying operation in Kattegat on the night before 13 March, 1945 a Lancaster was on its way back to England. However, over West Jutland the plane was suddenly attacked by a German night fighter and caught fire.
5 of the 7 members of the crew managed to bail out, while the 2 gunners D. Morris and H.J. Porter still were sitting in the plane, when it crashed, burning, into farmer Svend Jensen´s field in Østergårde." (FAF)
The crash was here, overview here. (Source: Knud Raunkjær). It is about 300 m north west of Skærbækvej 2, 6880 Tarm.
See the story about the Britsh War Graves. See the Danish memorial stone between the two headstones
and The RAF Memorial at Tarm from Arne Mosgaard.
Flight Sergeant Harvey James Porter, 20, was the son of John James Porter and Stella May Porter, of Five Dock, New South Wales, Australia. (Source: CWGC)
He gave his all for the country he loved so well

From LAN ME449 2 airmen were buried at Tarm and 5 evaded to Sweden. See more at each of the 5 airmen. See Lancaster photos.
See Lancaster photos * Bomber Command Squadron No. 103 * The RAF Elsham Wolds Association.
7 airmen. Lost Bombers has this.