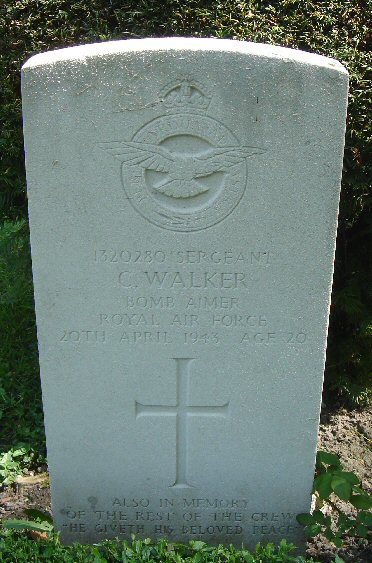 Clifford Walker Updated: 09 NOV 2011

Airman: a048006.htm Surname: Walker Init: C Rank: Sgt Service: RAF Sqdn: 100
P_link: p156.htm Plane: LAN ED557 Operation: Bomb G Crash_site: Storebælt
Crash_d: d200443 Buried_d: b010543 C_link: c048.htm At_Next: K - Bispebjerg

Den 21. april 1943 kl. 02.10 styrtede LAN ED557 ned i Storebælt. Flyvehistorisk Tidsskrift skriver:
"20.-21. april 1943 (02.10) Storebælt. Lancaster B.III ED557 (11W-Y). 100 BS, 1 BG, Waltham
(Grimsby), Lincs. (Stettin) 6 MIA og 1 MA (Bispebjerg).
Flyet havde over radioen meddelt, at det var ramt af flak over målområdet. Under returflyvning blev flere
fly rapporteret nedskudt over Storebælt, og ED557 var et af disse fly.
Liget af bombekasteren, Sgt. Clifford Walker, blev fundet i Samsø Bælt den 28. april. Resten af besætningen er aldrig fundet." (FT 88-32-8)
Sergeant (Bomb Aimer) Clifford Walker, 20 år, var søn af Robert Myles Walker og Amy Walker,
Cornsay Colliery, Co. Durham, United Kingdom. (Kilde: CWGC)
Han blev begravet på Bispebjerg Kirkegård i København den 1. maj 1943. (Kilde: FAF)
7 flyvere. Se Lancaster fotos og Stettin + Rostock 20 - 21 April 1943.

On 21 April 1943 at 02.10 hours LAN ED557 crashed into the Storebælt.
(Danish) Aviation Historical Review writes:
"20 -21 April 1943 (02.10) Storebælt. Lancaster B.III ED557 (11W-Y). 100 BS, 1 BG, Waltham
(Grimsby), Lincs. (Stettin) 6 MIA and 1 MA (Bispebjerg).
Over the radio the plane had reported that it had been hit by flak in the target area. Several planes
were reported shot down over the Storebælt on the return flight. ED557 was one of these planes.
The body of Sergeant (Bomb Aimer) Clifford Walker was found in the Samsø Bælt on 28 April.
The rest of the crew have never been found. " (FT 88-32-8)

Sergeant (Bomb Aimer) Clifford Walker, 20, was the son of Robert Myles Walker and Amy Walker,
of Cornsay Colliery, Co. Durham, United Kingdom. (Source: CWGC)
He was buried in Bispebjerg Churchyard in Copenhagen on 1 May 1943. (Source: FAF)
Also in memory of the rest of the crew. "He giveth his beloved peace"
See RAF - No. 100 Squadron * No.100 Squadron RAF * RAF-Lincolnshire with RAF Grimsby. This Lancaster took off from RAF Grimsby. See Lancaster Photos.
7 airmen. Lost Bombers has this. See Stettin + Rostock 20 - 21 April 1943.