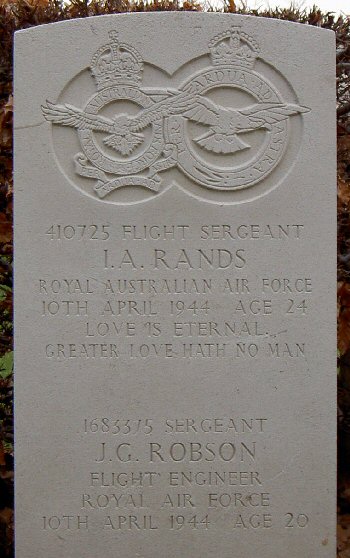 Ian Albert Rands Photo: Knud Riis

Airman: a014203.htm Surname: Rands Init: I A Rank: F/Sgt Service: RAAF Sqdn: 57
P_link: p284.htm Plane: LAN JB725 Operation: Minelaying Crash_site: Near Jelling
Crash_d: d100444 Buried_d: b150444 C_link: c014.htm At_Next: Esbjerg,Coll.g.A.7.24

"Natten til den 10. april 1944 foretog RAF en stor mineudlægningsoperation ved Danzig (Gdansk her).
I forbindelse med overflyvningen af dansk område blev mindst 7 britiske bombefly skudt ned, mens flere nedstyrtede i Nordsøen, i større eller mindre afstand fra Vestkysten. Fra 6 fly nedstyrtet i Midtjylland, og
2 i Nordsøen, ligger 35 omkomne flyvere begravet i Esbjerg.
Samtlige flyvere begravedes den 15. april 1944." (FAF)

LAN JB725 var på vej til målet med 5 store type A miner, da det blev angrebet af en natjager. Ved midnat
så folk i Jelling og omegn et rødt lysskær mod himlen, og lidt efter kom et brændende fly ud af skyerne.
Det var JB725, der eksploderede kort før det ramte jorden. Hele besætningen omkom. (Kilde: FT 90-102-20) Denne Lancaster var 1 af 93, der gik tabt over Danmark og farvandene nær Danmark.
Styrtet var omkring her nord for Fårupvej 6, 7300 Jelling. (Kilde: Margit Hansen, Lokalhistorisk Arkiv i Jelling)
Flight Sergeant Ian Albert Rands, 24 år, var søn af Alexander og Mabel Josephine Rands, Benalla,
Victoria, Australia. (Kilde: CWGC) Se hans navn blandt 47 navne i St. Clement Danes og i Horsens.

Se monument rejst her syd for Jelling, hvor Kongernes Jelling viser Jellingstenene.
Den store er Danmarks dåbsattest. Se også Google Map 57 + 630 Squadron. 7 flyvere.



"On the night before April 10 1944, the RAF carried out a big minelaying operation at Danzig (Gdansk here). At least 7 British bombers were shot down as they flew over Danish territory, and several crashed
into the North Sea, off the west coast of Jutland. From 6 planes crashed in the central part of Jutland, and
2 in the North Sea, 35 airmen were buried in Esbjerg. All of the airmen were buried on April 15 1944." (FAF)
LAN JB725 was heading for the target with 5 big type A mines, when it was attacked by a night fighter. At midnight people in and around Jelling saw a red glare in the sky, and a little later a burning plane came out
of the clouds. It was JB725, which exploded shortly before it hit the ground. All of the crew perished.
(Source: FT 90-102-20) This Lancaster was 1 of 93 lost over Denmark and waters near Denmark.
The crash was about here north of Fårupvej 6, 7300 Jelling. (Source: Margit Hansen, Lokalhistorisk Arkiv i Jelling)
Flight Sergeant Ian Albert Rands, 24, was the son of Alexander and Mabel Josephine Rands, of Benalla, Victoria, Australia. (Source: CWGC)
Love is eternal. Greater love hath no man (See also this inscription in Horsens)
See his name among 47 names in St. Clement Danes and in Horsens. See also Google Map 57 + 630 Squadron.

See Bomber Command No. 57 Squadron * No 57 Squadron and No 630 Squadron * Lincolnshire Aviation Heritage Centre.
The Wartime Memories Project - No. 57 Squadron RAF * No.57 Squadron in Wikipedia. This Lancaster - see Lancaster photos - took off from RAF East Kirkby.
7 airmen. Lost Bombers has this.